Meet the WizeGals
An internet interview with Kelly Bagnaro
by Josiah Hughes
Anyone who knows me knows that one of my favourite hobbies is poking around Facebook, joining any and every group that crosses my feed, sometimes joining dozens a week. I'm in groups about mommies, groups about being a line cook and groups about horse ownership. I'm even in a group called Coffee and Kilts, where three guys post pics of themselves sipping coffee in kilts every day.
Subscribe to 155 for new treats every week.
It's fun enough to find these groups and enjoy their posts as an observer, but sometimes I feel like it'd be nice to reach out to the admins and find out what makes them tick. I've had this idea for a while, but I especially felt the need when I found the page WizeGals.
It's a compelling enough name, to be sure, but it's not often you find something so foreign yet so fully formed. The WizeGals have a language of their own, with their strangely poignant memes often boasting a distinct visual style, a mysterious-yet-refined outlook and plenty of fedoras for good measure. Best of all, they arrive with captions like "WizeGals Weekend," "WizeMan Musing" and my personal favourite, "Hump Day Hat Wizdom."
Fortunately, the page's founder Kelly Bagnaro was kind enough to answer some questions via email, getting into great detail about what makes a WizeGal a WizeGal, and why she introduced WizeMen into the mix. Read on below, and stay Wize my friends.
What exactly is a WizeGal? How do you define it?
Kelly: A WizeGal has an innate sense of Wizdom, wit, and wonder. She senses the nuances and ironies in life and seeks to lift up and inspire those around her.
I've noticed that a lot of the memes you post include inspirational quotes or sayings. Is there a sort of guiding philosophy to the WizeGals?
Kelly: Yes. Life is a series of moments in which we have the ability to choose how we react and respond. WizeGals hopes to connect with those who follow the page and relate a positive and humorous response to those moments.
Tell me about the process for making a WizeGals meme. Do you start with an image or do you have a quote in mind that you'd like to include?
Kelly: It's a combination of both. Sometimes, it's a conscious search and one where I want to purposely inspire or share an experience. At other times, fate provides the muse.
What computer software do you use to make the images?
Kelly: Apple
When did you first use this word? Where did it come from?
Kelly: WizeGals originated in 2014. My mother was dying and I wanted a creative outlet. Writing has always been my go to outlet. At first, I started with the concept of "The Truth Is Poured…" then, my husband, an Italian, suggested WizeGals. I believe we'd just watched Goodfellas😅. And it stuck.
How many WizeGals are there?
Kelly: Currently, we are approaching 17k but we know there are many more out there.
I've noticed that the images of WizeGals often include women wearing hats. Are hats part of the WizeGals outfit? What is the specific kind of hat?
Kelly: Yes. I have a background in fashion and [was] a buyer for Ralph Lauren. With that background and my love of Film Noir, the fedora became the WizeGals mainstay and incorporated in the logo. In many of the memes the hat can vary depending on the message and theme. The WizeMan is almost always in a fedora.
Tell me about the WizeMen... who are they, and what do they do?
Kelly: WizeMen are men who appreciate a woman's sense of humor and strength. It's also a vehicle to share men's point of view and a way to introduce a romantic component to the site.
Can anyone be a WizeGal or WizeMan? What does it take to become one?
Kelly: The answer is Yes! Anyone who enjoys and/ or follows the page is seen as part of the group. We welcome all. We have a diverse demographic and all bring a perspective to the experience. I try to respond back to all responses, even if it's with an emoji. I hope I'm able to always continue to do so as the page grows. I appreciate the audience and their valuable responses.
Who are some people that you would say are not WizeGals or WizeMen?
Kelly: I would say no one is, although we don't tolerate any hate speech or vulgar comments on the site.
This page is about examining life. I believe we are here to help and support others on their journey ~ no matter where they happen to be in their process.
Is there anything else you'd like people to know about you?
Kelly: Not me personally… just that all are welcome to the page who search for answers ~ big or small. I feel the most rewarded when someone comments saying, I needed to hear that today; Wow, I've lived this.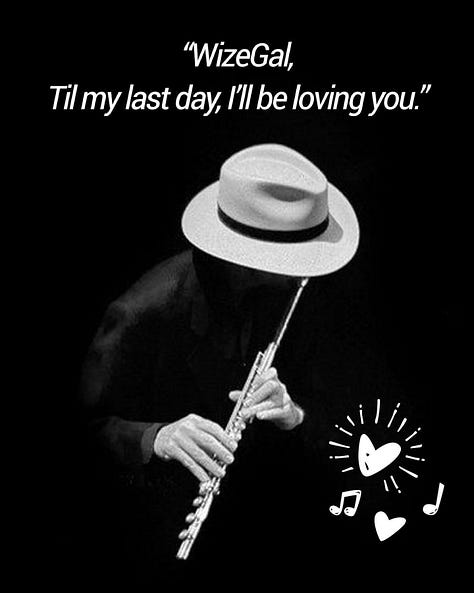 Subscribe to 155 for new treats every week.